Auto Maintenance
---

At Kontio's Automotive Service & Sales, we provide professional, quality, affordable auto repair service, and maintenance. Whether your vehicle needs routine maintenance or check engine light diagnostics, our friendly, ASE-certified staff will provide an individualized assessment. Then, we get your vehicle up and running as good as new.
We pride ourselves on being an environmentally-friendly facility. We burn all oil on-premises. We also recycle antifreeze, tires, oil filters, and metal.
Here are a few services we offer at Kontio's Auto Service & Sales:
Oil Changes
Routine oil changes are vital for the maximum upkeep of your vehicle. The oil helps to keep your vehicle from overheating. It also lubricates and cleans the engine.
Kontio's Auto Repair has a wide range of oil change products and services to best suit your vehicle's individual needs at an affordable price. We offer synthetic and high-mileage oil and filter change services. Our qualified staff is happy to answer any questions you may have.
State Inspections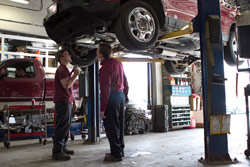 Kontio's Auto Service & Sales performs state auto inspections to the highest safety regulation standards. Our goal is to promote a safer driving experience by ensuring your vehicle is properly maintained, both before and after you purchase it. When buying a used car, it's a good idea to have it inspected by a professional to identify any problems.
Some car maintenance issues are hard to detect with the naked eye, like hidden problems in the engine, vehicle frame, or body. It's important to be aware of these problems to ensure safety and make sure the vehicle's price isn't unreasonable. If you are in the market for a new vehicle, let Kontio's Auto Repair perform an inspection for you.
Our qualified technicians will work with you to identify any hazards and ensure that the vehicle meets safety standards. After your purchase, continue to trust Kontio's Auto Repair for all of your maintenance and repair needs. Our professionals are here to help!
Tire Pressure Monitor Systems (TPMS)
A tire pressure monitoring system (TPMS) is an electronic system that monitors your tires' air pressure. It can identify when tires are underinflated to reduce traffic accidents. It maintains rolling resistance to ensure maximum fuel efficiency.
At Kontio's Auto Repair, our service technicians utilize TPMS to help customers get the most out of their vehicle and ensure safety on the road. TPMS can identify tire problems early, so you're not caught with an unexpected flat or involved in an accident because of your tires. Contact us today to see how Kontio's Auto Repair and TPMS can help you!
Tires
Kontio's Automotive is your one-stop-shop for everything tire-related. From four-wheel alignments to tire rotations and snow tires, we've got you covered. We use the latest technologies, including TPMS, to keep your tires performing their best in all weather and road conditions.
Brakes
When you engage the brake pedal to stop or slow your vehicle, it triggers several different parts of a larger brake system. It is vital to your vehicle's safety and performance that each of these parts is maintained using the proper expertise. Sometimes, these parts need replacing.
At Kontio's, our ASE-certified technicians can perform all of your brake repair, replacement, and maintenance needs at a price that fits your budget. We'll perform a brake inspection and explain your options. Contact us to schedule an appointment today!
Preventative Maintenance
Bringing your vehicle to Kontio's Auto Service & Sales for regular maintenance can help extend its life. This ensures that it's safe to drive. Whether it's taking a look under the hood at your vehicle battery or simply replacing your windshield wipers, Kontio's Auto Repair provides quality auto services at an affordable price.
Check Engine Light Diagnostics
The check engine light in your vehicle may come on for a multitude of reasons. Some are fairly simple and can be fixed quite easily. Others may require more in-depth service.
Kontio's Auto Service & Sale can perform extensive check engine light diagnostics and provide professional, friendly repair service at a price you can afford. If your check engine light comes on, don't panic. Contact Kontio's Auto Service & Sale!
Other Auto Service and Maintenance
Kontio's Auto Service & Sales offers a wide range of auto maintenance and services. Contact us today to learn more!