Auto Repair
---

Kontio's Auto Service & Sales services all vehicle models, specializing in Volvo and Honda. At Kontio's, we understand that repair needs are different for each vehicle. We provide quality, individualized service. You can trust Kontio's to welcome you as a friend, not just another VIN.
Engine Auto Repair Services
Engine trouble can be frustrating. When you bring your vehicle to Kontio's for repair, we'll perform a thorough assessment to identify the problem and provide quality services at an affordable price. Our trained Kontio's Auto Service & Sale team will get you up and running again in no time!
Transmission Repair Services
Kontio's Auto Service & Sales performs transmission diagnosis, replacement, adjustment, rebuilding, and more! We use the latest technology to identify the transmission problem properly. We provide high-quality repairs to both automatic and manual transmissions. You can trust our trained professionals to service your transmission replacement, installation, reseal, or other repair needs.
Vehicle Suspension Services
Suspension problems in your vehicle can be hard to spot but have a big effect on how it operates. Many people don't realize that the term "suspension" refers to several components that work together. It is not a single piece.
When one of those pieces is not working properly, it can affect how your vehicle goes over imperfections in the road like potholes or grooves. It affects how easily your car stays on the road. Identifying vehicle suspension problems early can save you money in the long run and prevent the problem from worsening over time.
Belt/Hose Repair Services
There are many different belts and hoses in your vehicle. They affect everything from steering to in-vehicle climate control. If you are experiencing signs like poor vehicle handling, loss of battery charge, lack of power, or decreased vehicle climate control, we can help. We'll perform the proper diagnostics to identify the problem and make repairs at a cost that won't break your budget.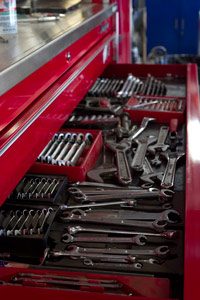 Filter Replacement Services
Different types of filters prevent abrasive contaminants from reaching vital parts like the transmission and engine. You must maintain and replace these filters to prevent more costly damage. Filters in need of replacement can cause oil leaks or a lack of power to your vehicle, even keeping it from starting.
Don't wait until it's too late. Contact Kontio's Auto Service & Sale today! We can maintain and replace your filters as needed.
Other Auto Repair Services
Kontio's Auto Service & Sales provides complete vehicle repair services. Our friendly staff adheres to the highest safety standards. We take pride in providing quality, individualized vehicle maintenance and repair.